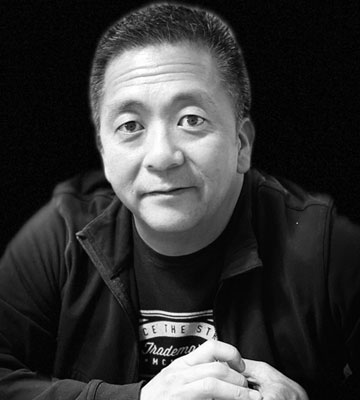 6 min read
As consumer brands continue to raise the bar on what constitutes an "average" digital experience, they've effectively reset consumers' expectations for all digital experiences. Your healthcare company's included.
One thing is clear: The question isn't whether to improve your digital experience, but how. So where is a good place to start in terms of seeking inspiration? The world of e-commerce.
The e-commerce industry has spent years figuring out how best to translate complex interactions into streamlined digital experiences. And they've pioneered digital personalization and self-service in the process.
Of course, both healthcare organizations and e-commerce companies each have their own unique sets of objectives and constraints. But from search and personalized content views to account creation and mobile optimization, many of the same principles and behavioral components apply. Which means that many of e-commerce's key learnings and successful digital strategies can be applied to your healthcare digital strategy, including your company's website, member portal, or app.
The Customer Journey: Parallels Between E-Commerce and the Healthcare Space
To begin, it's helpful to recognize the similarities that exist between the e-commerce and healthcare spaces. By taking a closer look at the phases of the customer journey, you can see parallels between e-commerce and healthcare. These overlapping elements represent opportunities to learn from e-commerce best practices.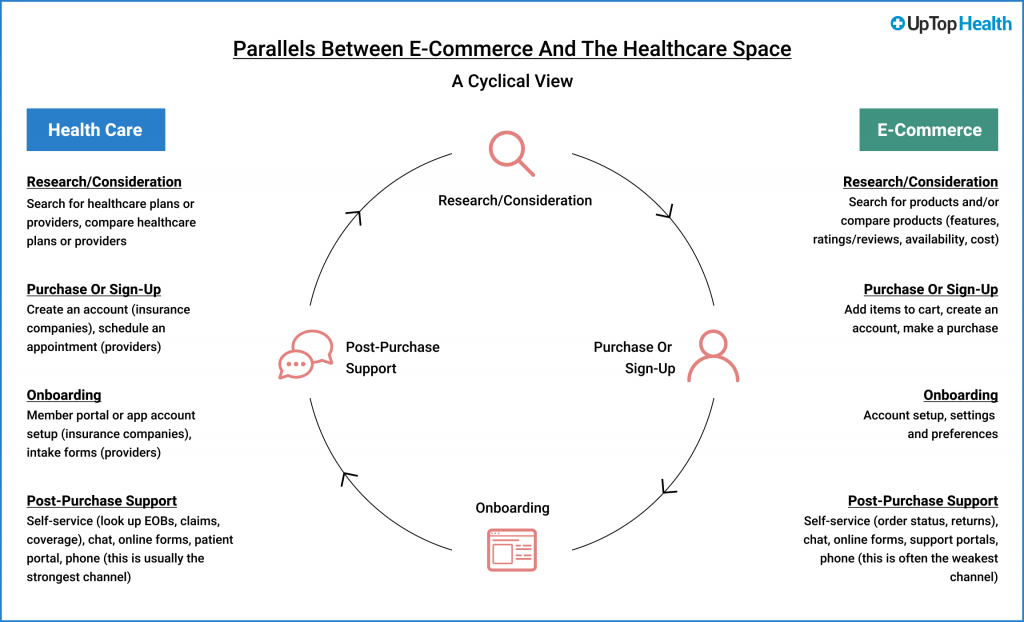 Research/consideration:

E-commerce: search for products, compare products (product features and specs, ratings/reviews, availability, shipping time frame, cost, etc.)
Healthcare: search for healthcare plans or providers, compare healthcare plans (coverage, deductibles, maximum out-of-pocket expense, cost, etc.) or providers (location and availability, accepted health insurance plans, ratings and reviews, cost, etc.)

Purchase/sign-up:

E-commerce: add items to cart, create an account, make a purchase
Healthcare: create an account (insurance companies), schedule an appointment (providers)

Onboarding 

E-commerce: account setup, settings and preferences
Healthcare: member portal or app account setup (insurance companies), intake forms (providers)

Post-purchase support

E-commerce: self-service (order status, order history, returns), chat, online forms, support portals, phone (this is often the weakest channel)
Healthcare: self-service (look up EOBs, check the status of claims and coverage), chat, online forms, patient portal, phone (this is usually the strongest channel)
E-commerce vs. Healthcare: Common UX Themes
Reviewing the two big-picture customer journeys side by side, a robust list of overlapping themes emerge. These include:
Frictionless task completion
Cross-navigation and selling
Self-service (in all phases, including research and comparison, purchase and sign-up, onboarding, and post-purchase support)
Search, navigation, and taxonomies
Social and customer feedback integration
Transactional experiences (authentication, account and communication management, user data collection, emails, etc.)
Mobile optimization
Personalized content views
User engagement strategies (such as gamification)
Whether making an online e-commerce purchase or buying and utilizing health coverage, users must complete a similar set of tasks and engage in similar activities. Of course, there are some important differences between e-commerce and healthcare that should be noted. For example, the post-purchase support phase in healthcare is very different than in e-commerce. In e-commerce, post-purchase support may be minimal or time-limited as consumers troubleshoot problems, make a return, or check their account. In healthcare, the post-purchase support phase is integral to members' use of the product, which is, of course, healthcare coverage.
Regardless, customers in both spaces expect a seamless, friction-free experience. But while e-commerce generally delivers, healthcare companies often fall short.
The Challenges of Translating E-commerce Experiences to the Healthcare Space
One area in which the gap between e-commerce and healthcare can be seen vividly is search. E-commerce companies excel at creating seamless search experiences. The search function is typically robust and up to date, even with constant fluctuations in inventory and pricing. In healthcare, meanwhile, the provider search function on payer websites is often lacking. The database frequently includes information gaps and lags, especially regarding which providers are in-network versus out-of-network. There's a reason it's hard to do well. Insurance payers are constantly negotiating contracts with various healthcare delivery organizations, provider groups, and individual providers. With negotiations taking place throughout the year, this information is dynamic. A provider may be in-network one month and out-of-network the next month. In order for a payer's search function to be up-to-date, these contractual fluctuations must be updated in near-real time.
Rather than finding a way to embrace real-time data updates, many healthcare organizations punt. They include a caveat indicating that the search results are current as of X date and advising users to call to confirm. This added friction undermines a user's ability to employ self-service to complete the task of finding a provider.
The challenges of improving provider search point to a larger truth: Healthcare payers face challenges and constraints that often make it more challenging to adopt the best e-commerce practices. These challenges include the functional constraints of back-end legacy systems  and third-party services, as well as legal and regulatory requirements.
But these challenges don't mean it's impossible to create a first-class digital healthcare experience that rivals the very best that e-commerce has to offer. Take Zoom+Care, for example. This urgent care provider in the Portland and Seattle areas offers a fully self-service digital experience that enables patients to:
Find a location and identify an in-network provider with a simple, accurate search
Schedule an appointment online by viewing available time slots and providers at each of a user's nearby locations
Create an account and complete all intake forms online prior to appointments
Receive appointment reminder notifications and HIPAA-related information digitally
Access post-visit information, including a timeline of all visits to Zoom+Care clinics, visit summaries, provider notes, cost breakdowns, and explanation of benefits
An Experienced UX Partner Can Bridge the Gap
If figuring out how to incorporate e-commerce best practices into your healthcare company's digital experience seems daunting, you aren't alone. The truth is that doing so well often requires an outside-in perspective, one that includes both e-commerce and healthcare experience.
At UpTop Health, we pride ourselves on our depth of experience in both the e-commerce and healthcare spaces. Although healthcare is our focus, there is tremendous value in our past — the 20-plus years of experience in other industries spanning from Amazon to Mattress Firm and beyond. These previous experiences allow us to apply a fresh lens and outside-in perspective to the work that we do in the healthcare vertical. As a result, we know firsthand the unique challenges and constraints your healthcare company faces. And we also have our finger on the pulse of what's coming next in e-commerce.
By remaining current in both industries, we can guide you in applying the most innovative trends in B2C e-commerce — self-service chat bots, personalized content views, cutting-edge interaction design, and the like — to your website, member portal, and app. In doing so, we'll sharpen your competitive advantage at a time when digital giants like Amazon are edging in to disrupt and displace existing paradigms.
Want to learn more about how UpTop can transform your healthcare organization's digital experiences? We'd love to hear from you.