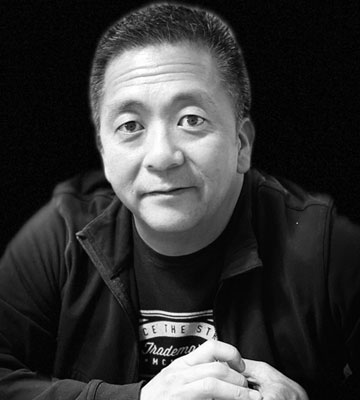 10 min read
Introduction to Medical Website Development
In 2022, everyone is leveraging the power of the internet and technology to the max, especially in such technology-driven industries as Healthcare. However, there is still plenty of room to grow. According to a study by Precedence Research, the global medical technology market size will grow from $447.63B in 2019 to $671.49B in 2027. If you operate in this industry, you must be a part of this amazing growth, and up-to-date medical website design is a critical component towards reaching your goal.
In this article, we will focus on medical website design and marketing, which will help you improve the marketing efforts and customer experience of your organization or individual practice. Why do you need medical website design services in the first place, and why your legacy website doesn't cut it anymore? A modern website can not only eliminate such things as long lines in reception or waiting too long for lab results, but also provide answers to the most common questions digitally and automate appointment scheduling.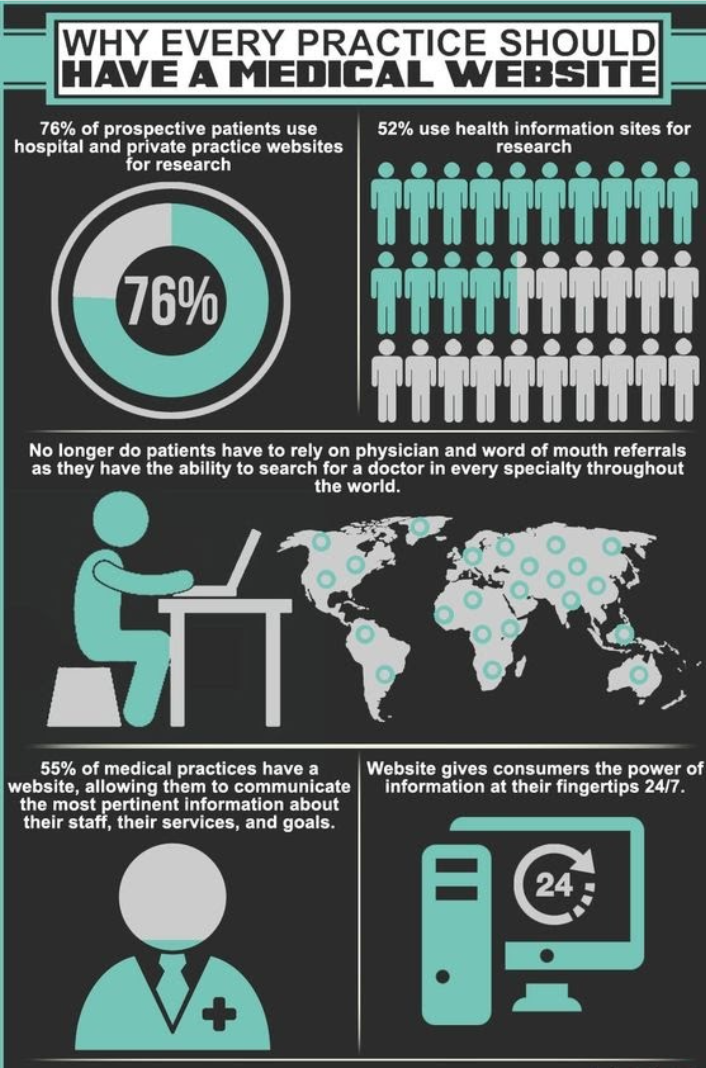 In addition to the improved customer experience, a modern medical website design, and proper SEO activities will help you stand out among competitors and become a leader in your region, or help you keep a leading position if you already are on the top.
"The two areas that are changing are information technology and medical technology. Those are the things that the world will be very different 20 years from now than it is today."
Bill Gates, American business magnate, software developer, investor, author, and philanthropist
4 main functions of medical websites
Before diving deep into the nuances of healthcare website design, let's talk about the functions that the website can help your patients with. Depending on each individual case, the importance of each function may vary, but it is critical to be aware of all of them.
Automating administrative functions
You can save money, time, and even the lives of your patients with the help of online forms, computerized prescription ordering, and automated scheduling.
Providing doctor-patient communication
You can connect patients and their doctors through email, or by setting up this communication in the user portal, live chat, video conferencing, or via a direct form on the website. Adding an "Ask a doctor" feature encourages patients to communicate via digital which can help minimize in-office visits while still serving their needs.
Educating your patients
To improve the treatment process of your patient, you can share details and your own insights on treatments, disease prevention, risk factors, and treatment cost reduction.
Supporting clinical decisions
You or your doctors can have access to different databases via web-based clinical decision support systems. Having this function in mind during the medical website development process will help you reduce the chance of medical errors in the future.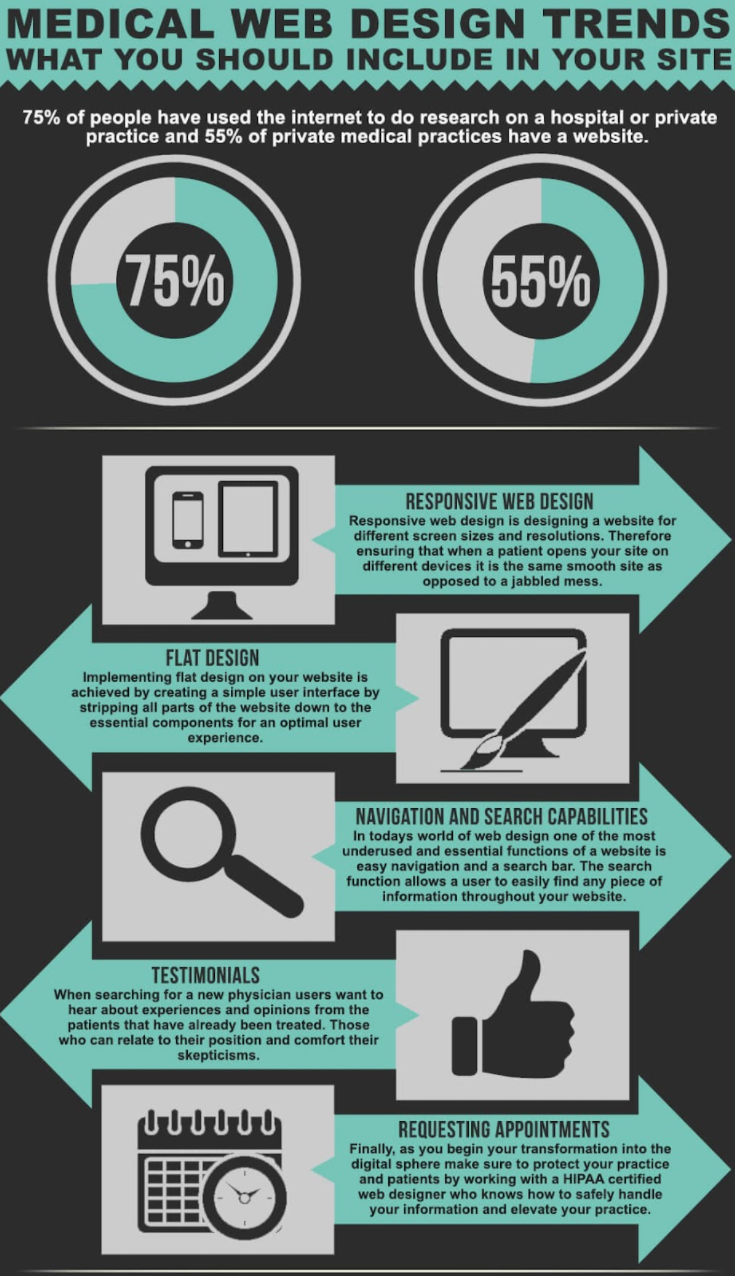 The benefits of a modern medical practice website design
Every doctor or medical establishment needs to have an online presence using responsive medical website design. Why? Here are some benefits for you to consider:
Improved accessibility
Compared to a call center, a website needs fewer employees to maintain and there are no phone queues.
Easier discovery
Your clinic and/or medical practice can be easily found online, without the user having to search Facebook or other social media.
Acquiring new clients
Modern medical website design and SEO activities unlock new possibilities for acquiring new patients for your clinic or medical practice. People who are not aware of you will know about your services and are more likely to become your clients.
All info in one place
You will be able to offer all information your patients need to know through a single source, including the doctors you employ, their credentials, the list of services they provide, and their certificates, diplomas, and accolades.
Medical website design: Key considerations
Medical website design and development involves some very important concepts; here are some of the most crucial:
HIPAA and HITECH compliance is a must
Every medical service provider deals with protected health information (PHI) on a daily basis. PHI contains information related to health services and is protected by HIPAA regulations. It includes sensitive information, such as health issues, recorded symptoms, insurance, patient forms, financial information, etc.
Any medical service provider website needs to be HIPAA-compliant and comply with four essential rules:
Privacy Rule
Security Rule
Enforcement Rule
Breach Notification Rule
In order to be HIPAA-compliant, a company needs to meet a list of specified criteria of data handling, assign a HIPAA compliance officer, guarantee data encryption, and prepare and publish policy.
The Health Information Technology for Economic and Clinical Health Act (HITECH) adds even more protection to HIPAA and brings several benefits to patients. Among those benefits is the access for patients to protected health information online.
You need to comply with these regulations with your medical practice website because you could suffer financial repercussions if you don't!
HITECH Penalties
Level
Min penalty per violation
Max penalty per violation
Max annual penalty
No awareness
$100
$50,000
$1,500,000
Reasonable cause
$1,000
$50,000
$1,500,000
Willful neglect with corrective actions
$10,000
$50,000
$1,500,000
Willful neglect without corrective actions
$50,000
$50,000
$1,500,000
Have a strict privacy policy
Healthcare websites operate with a lot of sensitive data, so a privacy policy is a must. This policy should be accessible to all users and include information on what types of data you collect, what tools you are using, and how you process, encrypt and protect data. It makes sense to hire a lawyer to prepare this document properly. For countries in the European Union, you need an expert proficient in GDPR.
Don't forget about the SSL certificate
It doesn't matter whether your medical web page sells services online or not, having a SSL certificate and using HTTPS is a must. You need to have this to ensure a secure connection with the server and proper data encryption. The price range can vary according to the type of protection and the number of domains you require this certificate for.
Make sure your website is responsive
PCs and laptops are no longer the main devices for the internet. In fact, the mobile percentage of website traffic worldwide was 54.4% in the fourth quarter of 2021, according to Statista. Your mobile medical website design matters more than ever before. Your website should look and function equally well on any screen and device. Ignoring this point will lead to losing customers. According to Goodfirms, 73% of web designers believe that non-responsive web design is the main reason for visitors leaving a website.
Making your medical website responsive is no longer optional, it's a must.
Ensure fast loading times
Today, users expect a website to load in less than two seconds. A study, commissioned by Google, proved that decreasing mobile web page load times by just a tenth of a second, resulted in significant increases in conversion rates, up to 10%.
Strive for easy website navigation
Easy website navigation means of having all information on the site available in two clicks. You can achieve these results by making the logical structure of pages and menus a key focus during the design phase.
Basic medical practice website design features
If you look for medical website design examples, you will find a lot of similarities in features for clinics, hospitals, and even individual practices. The bare minimum of features in medical website design and development includes home page, contact information, address, operating hours, doctor pages, and pricing. All those basic features could be implemented on a single website.
If you are looking to update a medical website that you already have or looking to implement modern features when building your website from scratch, here is a list of must-haves:
Individual patient profiles
Dedicated personal profiles will help store all the information of your patient's interaction with you or your organization. Having profile functionality means that you need to add signup and login features and possibly integrate registration via Google and Facebook for more convenience.
Automated scheduling
Another helpful time-saving feature is to let your patients schedule appointments online, without the need to visit you or make phone calls. In order to implement automatic scheduling, your medical website developer needs to create an interactive calendar that will sync with servers to avoid double booking and integrate with your existing appointment system to achieve this functionality.
Reminders
With a website, you can send notifications to a personal profile or via email. If you decide to build a Progressive Web Application (PWA), you can implement push notifications.
Search functionality
A larger medical practice can benefit from robust search functionality where users can find doctors' names, departments, tests and procedures, and symptoms. However, even a small practice can improve their user experience by having this functionality, even with fewer categories.
Chat functionality
Both automated chatbots and on-site chat with available medical specialists are great ways to improve patients' experience.
Video consultations
Especially valuable during the COVID-19 pandemic, online video consultation functionality can be achieved in a couple of ways; the most reasonable approach being integrating third-party video services via API.
Payments
Integrating a payment gateway will increase demand for security because the personal financial information of patients must be also protected now. So make sure to follow all security protocols and pick the most fitting gateway in terms of fees, supported payment methods, and functionality.
Healthcare website design tips and best practices
Mobile-friendly interface
We already mentioned the benefits of responsive web design, but to ensure convenience for mobile users, consider these tips:
Think of your homepage from a mobile perspective. Feature a long-scrolling homepage with bursts of relevant information
Don't forget about a hamburger menu which will allow mobile users to view the items of a menu in a drop-down format
Make it easy for users to call you from their mobile devices. Place your call button on the website in the most suitable place
Original content
Sharing your own content is a relatively cost-effective approach to show your advantages over competitors and provide your own insights with your patients. Having a blog with regular blog posts, featuring a Q&A section and a section with patient's reviews are great places to start.
Branding
One of the most important medical website design tips is having a custom website that helps establish your brand presence. Consistent color schemes and fonts should be a distinctive mark of your organization or practice. Avoid using stock images or videos because they will resonate poorly with the visitors.
Medical practice website development process: How to build one?
First, you need to decide what you want to achieve. Look for medical website design examples online. If you need just minimal functionality, a no-code solution like a website builder can be enough. When you require more complex functionality, it makes sense to go with a custom website or customize an existing solution. For custom medical website design and marketing, you can hire your own in-house team or outsource software development, partnering with a proficient technology company.
FAQ
Why do medical professionals need a website?
Medical professionals require a website to improve patient engagement and the user experience they provide by moving appointment and communication functions online. Additionally, a website can be a place for sharing insights via a blog.
How much does a medical website design cost?
Medical website design costs may vary dramatically, depending on the complexity of the project. To get an accurate estimate, it will be a good idea to contact experienced medical website design companies with a proven track record. Prices you find online can be inaccurate, and forming your budget according to available hourly rates of developers can be misleading because of additional hidden costs.
What are some tips for creating a medical website design?
Medical practice website design tips include implementing a mobile-friendly design, using consistent branding, sharing original content, and providing the latest technological features.
Do I need to hire someone to design and build my healthcare website?
You can use no-code or pre-made solutions to achieve this goal, but you will get a limited list of features. If you want a custom solution, and you don't have much experience in software development, you should contact healthcare website design companies for consultation and help. We would love to talk to you about your needs.